CAM IS A COLLECTIVE.
We are a collaborative research collective made up of interdisciplinary artists, designers and storytellers. As a feminist collective, our work places itself at the intersection of art and technology, constantly contemplating its unbounded impact in multiple contexts.
We are currently residents at the ADA DADA program curated by Maria Alejandrina Coates, held by SAVAC (South Asian Visual Arts Center)
MEMBERS
Carisa
is an interdisciplinary designer with an expertise in graphic and digital design. She expresses great interest in alternative storytelling practices, feminism and personal game design. Having spent most of her life in Qatar as an expatriate, she considers her transnational identity as an empowering asset in her work.
Amreen
is an artist, designer and researcher whose creative projects fall within the intersection of art, design and technology. Her work investigates how technologies are transforming the way human bodies move, live and play. Her current project "An Uneasy Terrain" is an expression of her research through installation design.
Maria
is an artist, storyteller and programmer whose work spans across art, books, code, design and fashion, to find new ways to tell stories of the human experience. Her recent experimental works explore the AIDS epidemic, featuring digital and hand-drawn illustrations, electronic literature, and augmented reality.
Portfolio
OUR COLLABORATIONS.
Workshop Series: Sketching with p5.js
CAM x Studio Time Workshop
This workshop was a collaboration with Studio Time, a virtual studio for artists to get together as a response to the pandemic. We prepared two Introductory sessions that spanned two weeks for participants who wanted to learn creative coding on the browser with p5.js. Session 1 was a sketching session with various geometric shapes to create an abstract composition, while Session 2 was a continuation of the 1st, with a focus on p5.js interactivity.

The presentations can be viewed here: Session 1, Session 2
Nagata Shachu in AR
CAM x UKAI Projects MIGRATION Residency (in collaboration with Nagata Shachu Ensemble)
Nagata Shachu in AR is a project outcome from the MIGRATION residency at UKAI Projects. As a collective we collaborated with Nagata Shachu, a Japanese Taiko Ensemble, to digitize and transmit knowledge about the group and also relay informative content to audiences through augmented reality. This content comprised of personalized stories of the Nagata Shachu members In our exploration, we utilized the AR.js coding library and created customized image markers to familiarize ourselves with open source AR, creating our own hosted page for the experience.

This experience is hosted at nagatashachu.com/stories

The posters are accessible in this drive folder.

Documentation of the project can be found on the CAM Collective tumblr.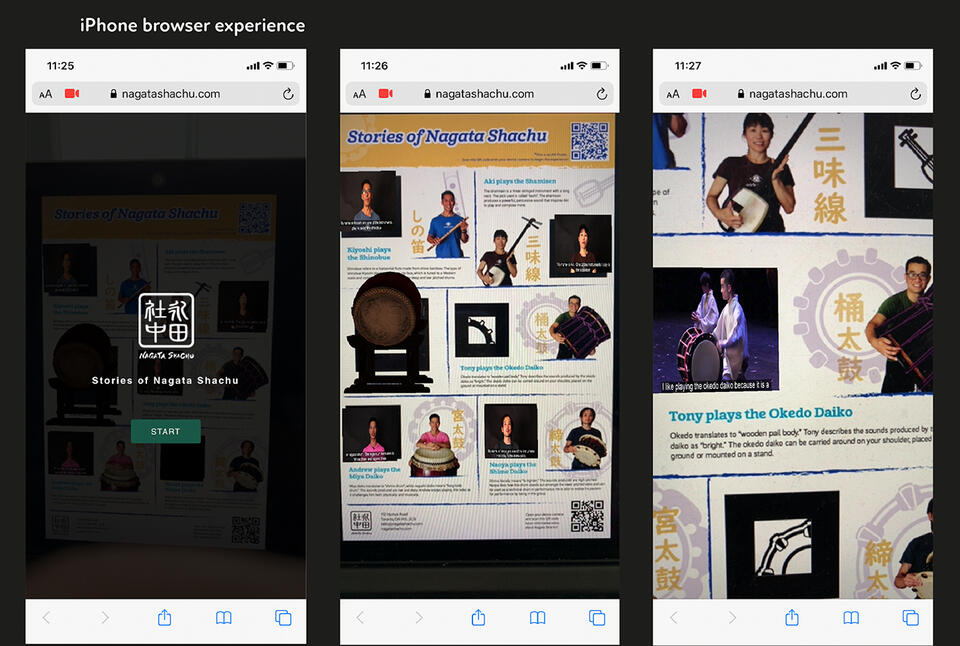 The image markers were then placed onto an AR poster (and other applications, such as the mug) that can be printed. The aim of this exploration was to design within the affordances and restrictions of open source AR, and to migrate the experiences Nagata Shachu can provide to its audiences to the digital, in the COVID-19 pandemic.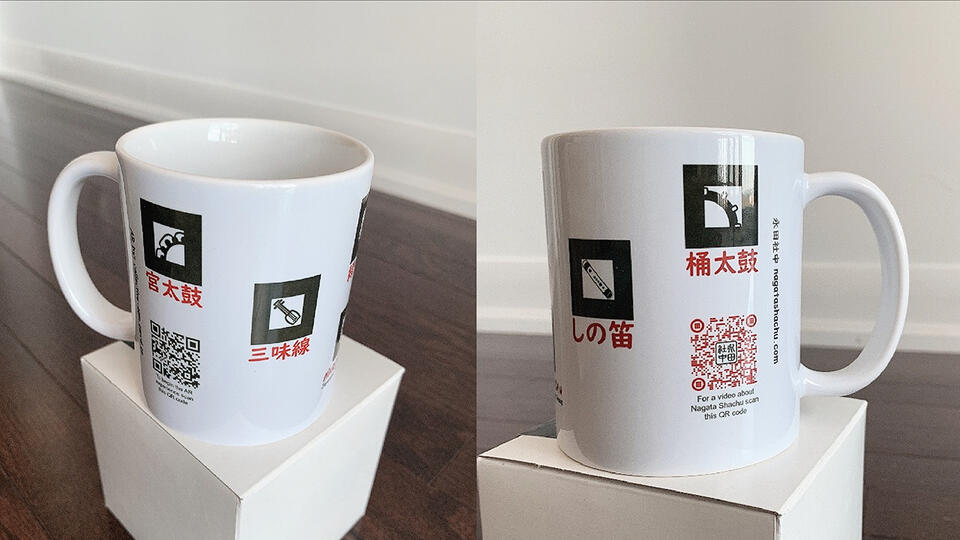 CO-COLLABS
Project 1: Emojiball
C x M (in collaboration with Nick Alexander)
EmojiBall is a multiplayer physical ball game in which the game pieces exert influence on the players. The components of the game are three EmojiBalls, three hoops, and an environment that affects the game's outcome. The game is intended for a minimum of three players, and there is no necessary maximum number of players; however, each player must be assigned a hoop and an EmojiBall.

The balls are reactive and have "moods" which will change based on how they are manipulated. Balls can be shaken, rolled, thrown, or otherwise handled in any way as the player decides. When a player scores with a ball in a "positive" mood they win a point, while scoring with a ball in a "negative" mood leads to an opponent losing points. The distinct features of whatever space the game is played in will influence the available options players have with the balls, resulting in a unique game scenario every time.

Documentation of the project can be found on the Digital Futures blog.
---
Project 2: THE BODY AS A GAME CONTROLLER:
An Exploration of Real-time Human Body Tracking
A x M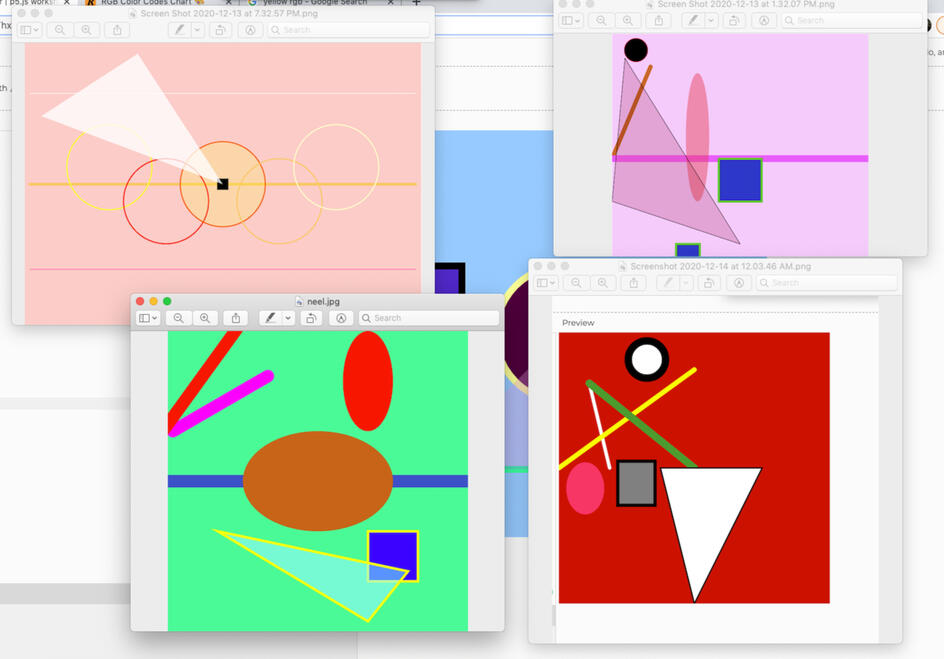 This research delves into the world of computer vision by allowing participants to use these algorithms creatively. The world of computer vision is a growing branch of computation technology which employs theory and technology for building artificial systems that obtain multi-dimensional data. During the course we hope to use emerging tools and algorithms to explore the idea of the "body" as a controller within the concepts of gamification and game theory.

A documentation of this study and its outcomes can be found on this ocadu blog.
---
Project 3: Calderakin - Stories of Dia
C x A (in collaboration with Lauren Connell-Whitney and Manisha Laroia)
Stories of Dia is a response to Donna Haraway's Communities of Compost, Camille Stories, from her book Staying with the Trouble: Making Kin in the Chthulucene. This creative writing collaboration was done as part of the Femtech Toolbox graduate course in OCAD University led by Maria-Belen Ordonez. Each individual was tasked with writing a generation of multi-species entanglements that circulate around the ring of fire. The sites the kin migrated through were situated at temporal land forms called a Caldera, often materializing years after a volcanic eruption.
Stories of Dia comprises of four generations of kin traveling through the calderas formed in Indonesia, Japan and the Kuril Islands, within a speculative apocalyptic world.
---
CONTACT US
Email us at:
+++